DIY Kit ''Le Chique'' - Make Your Own Dog Collar
W tym podatek od sprzedaży, bez kosztów wysyłki
All orders are custom made. The processing time depends on the total amount of orders. Currently the processing time (queue) is: 145 hours
The processing time is adjusted daily. Urgent? Please contact us.
zestaw
Make your own dog collar with this DIY kit in the colours gold and black. Suitable for starters.
DIY kit ''Le Chique'' - Make your own dog collar
Make your own adjustable collar with this DIY kit! The DIY kits and corresponding instructions are designed in such a way that you can make a nice Paracord collar as a starter.

Adjustable collar due to Biothane adapter

 Collar size up to 60 cm possible

Online tutorials for 4 knot patterns

Ready-made kit, so no customisation possible
1 Paracord DIY kit, many possibilities
This DIY kit contains all you need to make your own dog collar with a Biothane adapter.
With this kit you can make these knots: Honey Bee, Benno's Happiness, Luna's Fly Trap and Graf Wutz. With the materials you can also make all kinds of other knots, but for the 4 mentioned knots there are tutorials available.
Contents DIY kit:
| | | |
| --- | --- | --- |
| Black | MT010106 | 9 m |
| Gold Paracord 550 Type III | MT010121 | 7 m |
| Gold Diamonds Paracord 550 Type III | MT010463 | 7 m |
| Cream Paracord 550 Type III | MT018789 | 7 m |
| Accessoires |   |   |
| Black Biothane Adapter |   | 1 pcs |
Instructions
In the DIY kit you will find a sheet with references to online tutorials and videos that you can use when making your own Paracord dog collar.  
These knots can be made with this kit: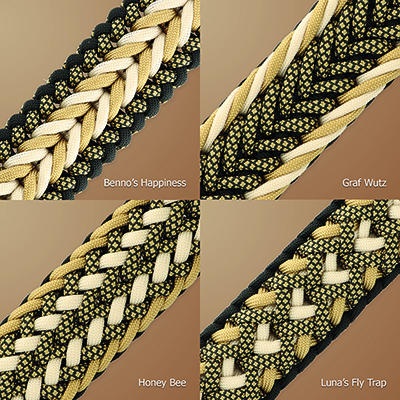 These tools are not part of the kit, but are used in the tutorials: 
Scissors
Paracord Needle Type III
Blowtorch
Jig
Please note: 
There will soon be a living animal attached to the collar. Of course, you do not want the animal to get loose because the collar has weak spots. Therefore, ensure that the set-up is always one piece and that you always insert the set-up threads back through the set-up when finishing off.
The Biothane adapters in these kits are made with care. It is good to regularly check if everything still looks good for the safety of your dog.
Paracord.eu is not responsible for any damage as a result of misapplication of the instructions.
| | |
| --- | --- |
| SKU: | MT021690 |
| Cena za: | zestaw |
| Waga: | 280 gram |
In doubt? Order a sample!
Do you want to be just a little bit more sure whether this product is suitable for your project? Order a sample of this product. (ca. 10cm)
Click on the order sample button below to add a sample to your order.
How it works:
You can order 1 sample per product. On your sample card is a discount code that represents the value of this sample. This discount code can only be used when ordering this product with a minimum quantity of 2 units (for example meters).
Please note! The discount code is valid for 2 months.